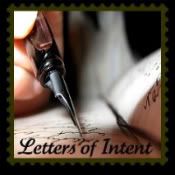 Letters of Intent, brought to you by Julie @
Foursons
. Don't forget to click over there when you're done here.
I'm sure anyone with a husband will relate this week..
Dear Husband with a Death Wish,
Yesterday you played hooky from the job you will be leaving soon to do some online training stuff for the company you are about to start with. I am fairly certain the online training took about three or four hours, but you sat at the computer
all day
. You watched me clean the house, wrangle the kids, make bread, and do laundry. Then I cooked supper. I did not ask you to watch the kids, or intervene when they were taking turns trying to kill and maim each other. I specifically told the kids to leave you alone so you could get your computer stuff done. When I took the Hurricane to tae kwon do at 5, I assumed that you would clean the kitchen, because it has been our deal since the beginning of time that if we are both home, the person who does not cook has to clean.
Much to my dismay, when we got back home at 6, the kitchen was half-assed done. I appreciate that you cleared the table and ran the dishwasher (that mostly I loaded), but the job is not done until the pots and pans are washed and counters are wiped. I did not appreciate the shitty way you left it all for me to clean and flat out told me that you weren't going to do any of it. Then you sat your ass right back down at the computer.
We both know that I am a Woman On The Edge these days, what with the hormone stuff I'm going through. My doctor's appointment isn't until next Wednesday, so you'd be wise to watch your back, Jack. This kind of disrespect will take you places you really don't want to go. Do you really want to share your side of the bed with those unwashed pots and pans? Or maybe you would prefer that I stuff your pillowcase with every stinky piece of dirty laundry you own? Which, if you keep giving me Shitty Disrespectful Attitude, is going to pile up as I will go on laundry strike.
It is not wise to mess with me, Husband. I have ways of making your life extremely unpleasant.
Your Loving Wife,
Stone