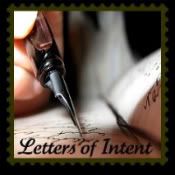 Letters of Intent, brought to you by Julie @
Foursons
. Click on over for some more chicken-scratching and pencil-licking. (pencil-licking *snicker*)
Dear Lungs,
As of yesterday, we are now Officially 3 Months Smoke Free. How do you feel? Like a couple of shiny pennies, no doubt. Or a pair of shiny lungs, even. I am going to continue to try my hardest to not fill you up with cigarette smoke. Also, thanks for not getting infested with some gnarly bacteria, or worse;
The Virus
, The Name Of Which Will Remain Unsaid So As Not To Jinx Us.
Keep up the good work!
Stone
Dear Cardiovascular System,
In case the Lungs haven't told you, we are 3 months smoke free. Yes, it is Fan-freaking-tastic! Have I told you lately you're doing a great job? Because you so are. And hey, I really appreciate that since we quit smoking, I'm not getting those scary dizzy spells,
which always occurred while I was driving
, anymore. Was that actually smoking-related? Or just a psychosomatic mechanism to scare the ever-loving shit out of me? Whatever it was, it worked!
Great job!
Stone
Dear Psyche and/or Relevant Parts of My Brain,
Okay, so obviously you know we are past the 3 month mark. Now, it's going to be a bit tricky for the next couple of weeks, because in the past, this is where you tend to drop the ball. Don't try to convince the rest of us that, "
we can have just one; after all, we've proven we can quit!
" We'll all be smoking again in no time if that's how you're going to play it.
Since I have your attention, I'd like to address something else. It's time to shut off the Negative Eating Patterns. Honestly. I get the whole concept of replacing one addiction with another, but could we please pick something other than food? Something that will keep my hands busy but
not
cause me to bust out of every pair of pants I own? There is only so much Lycra in these jeans, Brain.
So how do you feel about knitting? Can I get a
hell yeah
for knitting?
Thanks very much,
Stone