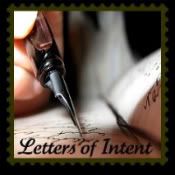 Letters of Intent is brought to you by Julie @
Foursons
. I can think of nothing witty to say. You can have either witty
or
sensible. I am incapable of both at the same time right now. Happy Reading!
Dear Old Man Winter,
I'm not sure what kind of monkey business you are trying to pull here. The first snow we got today was supposed to be here two weeks ago, and it was only supposed to be a light dusting. Not the big, puffy snowflakes that arrived today; you know, the ones that are
not going away like they are supposed to
? They are turning the highways into Snow Fields of Death (not 'death' literally; nobody died today that I am aware of).
You know I don't have winter tires, right? Were you not aware that my all-seasons are on their last legs as it is? I don't want to drive them in any amount of snow, let alone this dumping you sent, because I have a slight aversion to
flipping my vehicle upside down and landing in the ditch and killing us all in a fiery wreck.
Yeah, I'm a real party pooper. ("pooper" *snicker*)
Fair warning: The other folks who drive on our secondary highway will be seriously cursing you for this weather when they are forced to drive 50km/hr (what is that, like 35 mph?) behind me because I have zero traction on my bald tires at any kind of reasonable highway speed. Hairless cats greased in Crisco trying to climb a waterslide have more traction than my tires. Just sayin'.
The worst part of this ridiculous snow is having to bundle three kids up for the 15 ft trek from the front door to my vehicle in these blizzard-like conditions. This is not just a silly quirk of mine, it is a limb-saving requirement. Neither myself nor my kids have any grace or balance to speak of, so it is a given that every single time we go out, someone will bite it on the walkway - which I haven't had a chance to shovel yet. It's just better for everyone if we are layered in padding from head to foot.
And that's another thing, OMW, are you punking me? I mean, when I finally do get around to shoveling, why is it that you always make it snow again right when I'm just finishing up? I bet you think you're a real comedian, don't you?
So, Old Man, enough with this bull. Get rid of the snow before Saturday night, because I really don't want to watch my children fall down repeatedly as they trick or treat
and get me some candy
. After a few falls, the kids will be sick and tired of being cold and wet and covered in snow and they'll start whining to go home
and then how will I get my candy
. All this snow will really ruin the excitement of Halloween for the wee ones and that's just not fair
neither is me going home without scoring the big candy
.
Sincerely,
"Crisco Kitty" Fox
Don't fuck with my candy, old timer, it's not wise for your health.